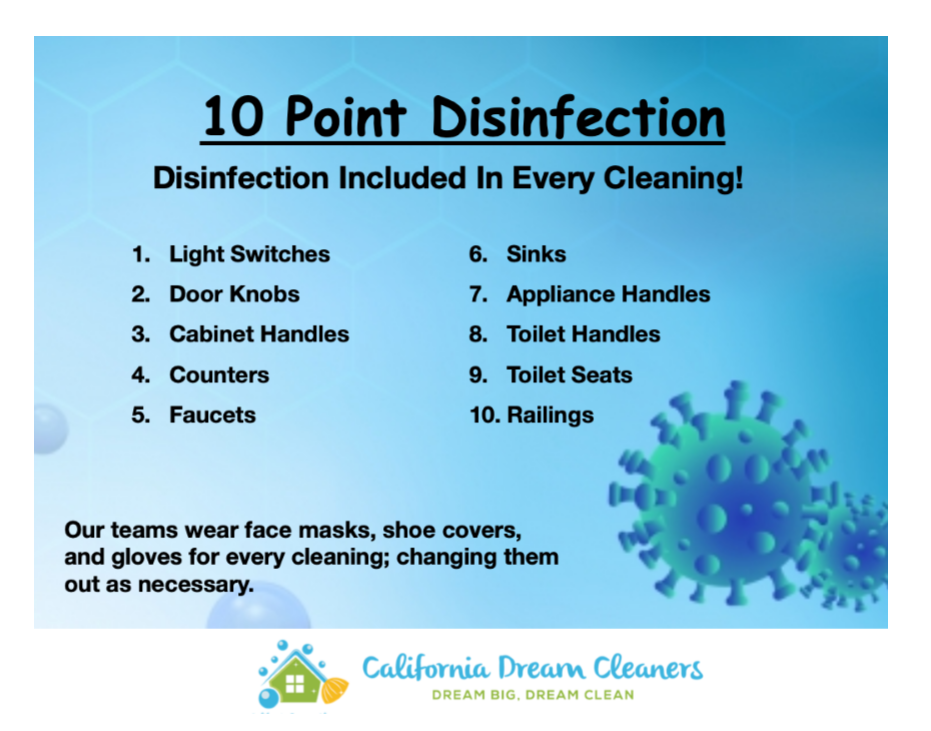 To all our customers:
We Keep You Safe, Satay Healthy with us
Because of a Coronavirus outbreak, we would like to share with you the precautions our company has implemented to help keep you (our clients) and our employees safe and well.
To prevent bringing outside germs into your home. Now, more than ever, keeping your home clean and sanitized is essential.

·       Our professional cleaners have been completed special training about this matter.
·       We will under no circumstances allow any employee that is sick, has any flu-like symptoms or who have sick family members to come to work.
·       Cleaning technicians will sanitize their hands with an alcohol-based hand- sanitizer prior to entering your home They will also wash their hands once in your home, and wash hands prior to leaving your home.
·       Cleaners will disinfect the things they use and touch to clean your home before living (mop handles, vacuum handles, etc.)
While in your home we will pay special attention to disinfecting often-touched surfaces throughout your home.
·  
·       Upon your request, our cleaners will use disinfected to sanitize often touched surfaces in your home like doorknobs, light switches, refrigerator handles, drawer and cabinet pulls, etc. For now, we have Clorox Liquid Performance Bleach and  Simple Green d Pro 3 Plus Antibacterial. Both products used in the right way will kill 99.9 % of germs. We also may use any product that you have and like in your home.
·       As always, towels are always clean and sanitized.
·       Our cleaners will also wear gloves while cleaning your home.
·       Please feel free to make any other request.
Lastly, we request that you cancel your cleaning appointment if you or a family member is sick, experiencing flu-like symptoms or has tested positive for the flu or coronavirus. We will waive all cancellation fees related to you or family members being sick. We will gladly save your spot and freeze your price for up to 60 days.
Keep your distance. To protect you and your technician, we ask that you try to remain 3-6 feet away from each other.

For your information, I'm also including the link to the World Health Organization's website:
https://www.who.int/emergencies/diseases/novel-coronavirus-2019/advice-for-public
I want to assure you all that we are taking this thing seriously. I'd rather be proactive and have nothing happen than to risk anyone's wellness by not being prepared.

Please feel free to reach out to the office or to me personally if you have any questions or concerns. My cell number is 707-208-9659